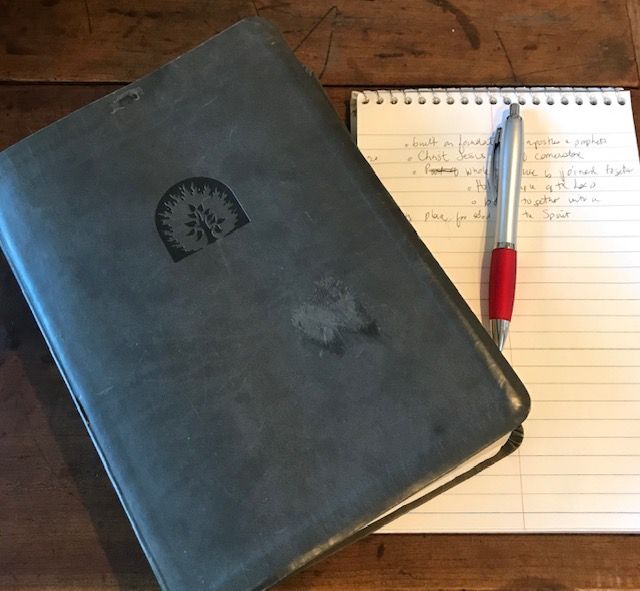 Happy New Year!!!
How quickly we shift from taking a pause to celebrate the birth of Christ back to busyness.  
If you're like me, you enjoy the break between Christmas and New Years Day to think about your life and long for the coming year to be a better one than the one just passed.  How can we make a difference for Christ this year?
It all comes down to getting quiet, asking for the Lord to help, and then finding out what the Lord is saying to us in His word.  There is no substitute for spending a ton of time there. I have found it useful to choose a Bible reading plan each year, and I have done so every year for the past several.  But at the end of last year, my reading seemed stale and obligatory.
When that happens I think back about what has helped me in the past.  As I pondered this, I suddenly remembered way back when I began taking Precept Classes.!!!
If you've never done this, Precept is an amazing method of really paying attention to the text of scripture. Marking words and drawing with those crazy colored pencils!  Observation, Interpretation, Application.  Asking the "Five W's and an H": Who What Where How and When.  If you've ever done a Precept Study  you know what I mean.
Simple, right?  But it's amazing how many books we can read about the Bible and not read the Bible itself.  (One book that actually is helpful if you want on overview of the method is How To Study The Bible by Kay Arthur et al)
I'm providing a link here to the Precept website, where you can not only order study workbooks, but also find an online or in person Precept class. 
I actually went through the teacher training years ago, and at the end of 2021 I took a refresher class! One of my goals is to teach Precept in 2022.  Right now I'm studying Titus, which is just 3 chapters and a great introduction to the inductive Bible Study method.  (There are several levels of Precept courses depending upon the time you have and the amount of homework you can handle, but my experience is in the intensive classes--they aren't that hard and you'll learn a ton!)
I hope that's not too much information.  If you do just one thing, order the Titus workbook and follow the directions.  That will definitely give you a taste!
Okay, back to music! For January's song, I wanted to offer a download of a song I wrote called Armor of God.  It's a song about the armor we need as Christians to go out and make a stand for our glorious Savior, based on Ephesians 6:10-20 and 2 Corinthians 10:4 .   I hope you will be singing it in the mornings as you face this new year of 2022!
xo
Charlotte
 We sincerely hope the music is a blessing to you! Don't forget to sign up for news from me (see below) and also contact me with any questions about the music or about finding faith in Christ.
Copyright © 2021 by Charlotte A Ryerson