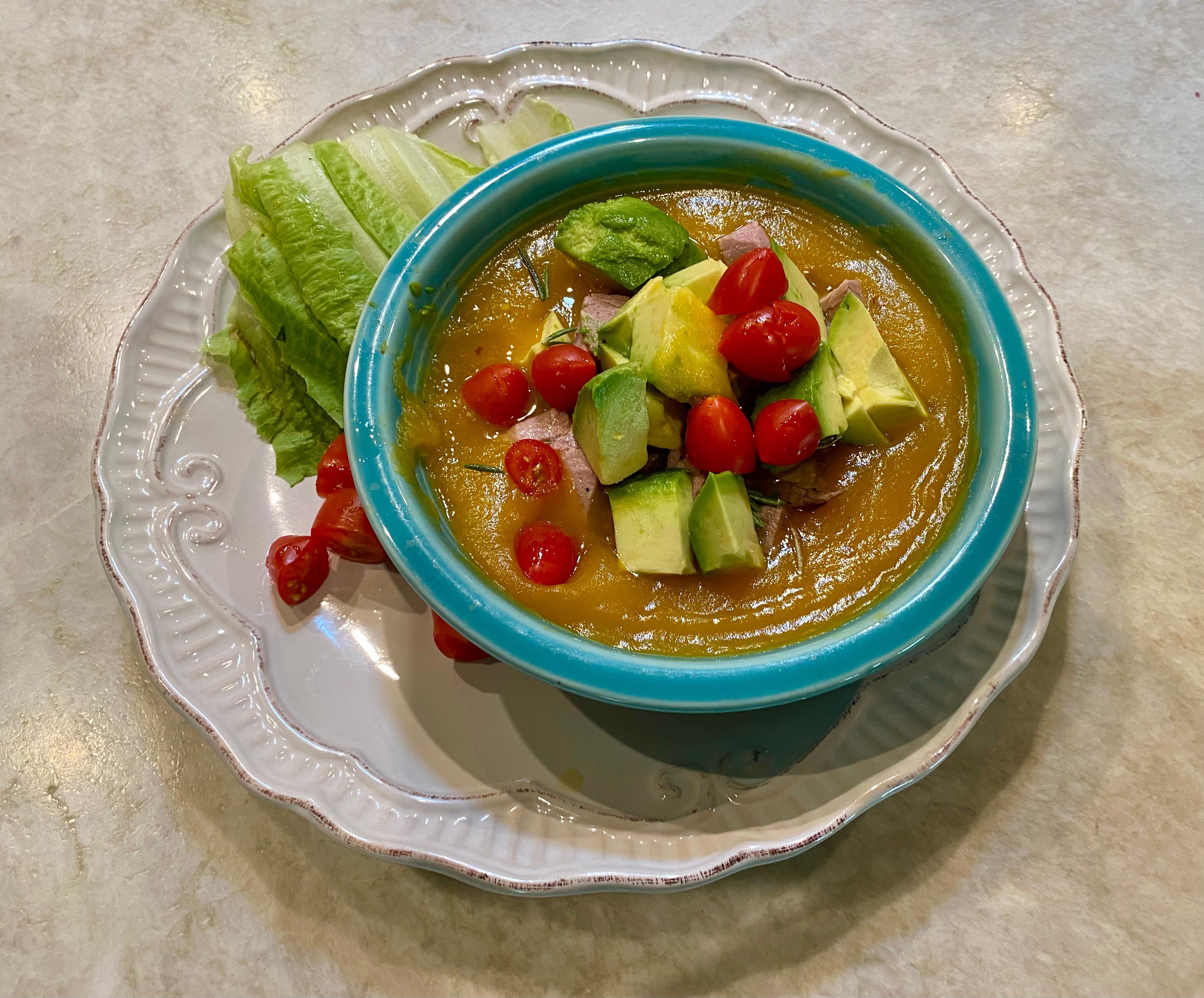 As temperatures get chilly, who doesn't like a bowl of butternut squash soup?
This one is so easy, and you likely have most of the ingredients in your pantry!  (An immersion blender makes it so much easier than a blender btw!  Splurge if you don't own one.)
So...Just peel and scoop out seeds of a medium to large butternut squash.  Cut the peeled squash in 2-3" chunks. Peel and chop two large onions,  Smash about 4 garlic cloves.  Peel and chop about a finger sized ginger root.
Saute the onions and then the garlic in some butter or oil.  I like to use ghee for this. When onion and garlic are translucent, add the squash and enough water to cover the veggies.  Add in the chopped ginger.
Bring to a boil, and then simmer until the squash is soft.  Probably about 30-40 minutes.
Blend with immersion blender until it is your desired consistency.  I like it silky smooth, but you can leave some chunks if you like!
Salt and pepper to taste. 
Notes:  If you don't have ginger but you do have one of those cans of chipotle chiles in adobo sauce (find in Hispanic food section)  you can add one chipotle pepper plus some adobo sauce for a smoky, spicy flavor. Add to the pureed soup and cook a bit longer, until the chipotle chili breaks up. Go easy because these little chaps are hot!
You can top the soup with whatever you like--some of my faves are pumpkin seeds, sour cream, roasted, salted seeds from the Butternut  squash, avocado, cheese, or fresh tomatoes and parsley or cilantro.  
One cool thing you can do with this soup since it's so thick is to put some thick chili in a bowl, keeping it to one side.  Fill the other side with the squash soup. Half and half!   It looks like one of those double soups that California Pizza Kitchen used to sell (do they still sell them? Haven't been in ages.)  It 's a fun marriage of soups because the flavors work well together.